E-Z Drill
E-Z Drill is a leading manufacturer of high-quality concrete drills and dowel drilling machines.  Designed to deliver maximum accuracy for job site efficiency and productivity.  From single, two and multi-gang slab riders, E-Z Drill is your solution for a variety of construction applications of various sizes.
Browse our Complete Line of E-Z Drill products:
The Pro Group offers an impressive line up of E-Z Drill construction products for Sale and Rent.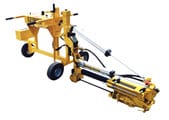 Concrete Dowling Drillling Machine
The fastest and most accurate Concrete Dowling Drilling machine available, E-Z Drill helps you get the job done right.
Contact Us for E-Z Drill Construction Equipment
Request a Quote or call us at 1-888-776-0007 to speak with a representative from The Pro Group for information on our stock and rental fleet.