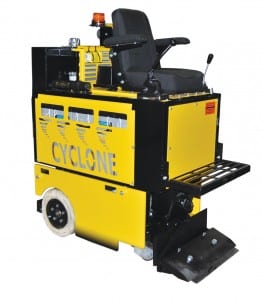 SASE Cyclone- Battery Powered Ride-On Floor Scraper:
Most efficient battery powered floor scraper.
Triple blade action to maneuver, angle and pivot the scraper blade.
Fits through standard door ways and on elevators.
Removes all types of floor coverings, VCT, laminates, hardwoods and rubberized coatings, carpet and more.
Comes with on board single phase, 110V and Quick Charge 100 AMP single phase 220V charger.
Single joystick control for speed, steering and direction.
Zero emissions floor scraper.
Request A Quote
Rent Floor Scrapers From Pro Equipment Rental
Request a Quote or call us at 1-888-776-0007 to speak with a Pro Equipment Rental representative for more information on our stock of floor scrapers. Rentals are available from one day to long-term options and are available to pick up at one of our four locations or have prompt on-site delivery.