Concrete Placing Equipment from GarBro
1.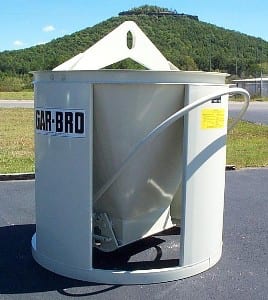 G Series General Purpose Concrete Buckets
The standard bucket for placing a wide range of concrete by the general contractor.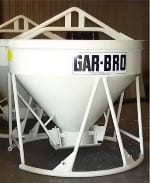 2. R Series Lightweight Round-Gate Concrete Buckets
30% to 40% lighter than the standard bucket, this bucket is ideal for the general contractor.
3.
L Series Lightweight Laydown Buckets
A lightweight laydown bucket with the ability to handle a large capacity at a low loading height.
4. Extended Gate Lightweight Laydown Buckets
A laydown bucket with a side discharge feature.
5.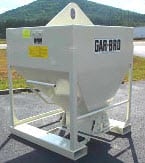 Combo Buckets
This bucket is featuring a double clamshell gate with vertical front discharge, fork pockets and a selection of slide-on chutes for a variety of uses.
6.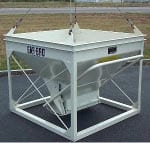 Roofers Buckets
A lightweight bucket designed for the placing of chat and gravel by the roofing contractor.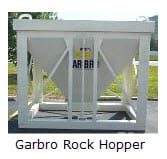 7. Rock Hopper
A heavy-duty hopper that facilitates the placing of bedding material on utility jobs.
8.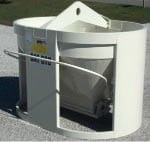 Precaster's Buckets
This bucket's extra-wide gate is used for pouring pre-cast forms, slabs, etc.
9.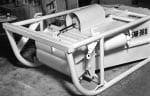 Heavy-Duty Laydown Buckets
A bucket that combines a low loading height with a large capacity for placing low slump concrete.
10. Low Slump Cableway Buckets
These buckets are designed for use with a cableway, but may also be used with a crane. The bucket remains attached to the lifting device and is generally charged with a transfer car.
The buckets feature large double clamshell gates and the Gar-Bro patented Venturi throat for fast, complete discharge of the concrete.
Gates may be hydraulic or pneumatic controlled.
11. Model A Low Slump Buckets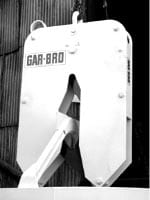 A heavy-duty bucket that reliably handles large aggregate, low slup concrete and features air-operated discharge gates.
12. Automatic Bucket Hooks
The automatic hook is for use on large, multiple bucket operations where fast hookup is important.
13.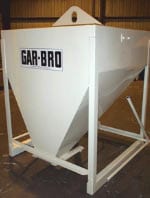 Bond Beam Buckets
A specialized bucket used to pour columns, walls and nearly any placement challenge.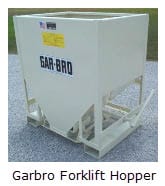 14. Forklift Hoppers
A hopper used for distributing materials such as grout and concrete with a forklift.
15. Wide Flange Receiving Hoppers
A special hopper that can be attached to the entire range of 14-inch wide flange columns to place floor slabs in multi-story buildings once the steel is in place.
16.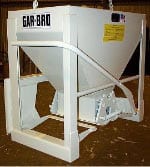 Skidsteer Buckets
A versatile bucket designed exclusively for Skidsteer loaders.
Comes with quick attach bracket and hydraulic gate operation.
Request A Quote For Models
Find the Right Concrete Placing Equipment at Pro Tool & Supply
Request a Quote or call us at 1-888-776-0007  to speak with a Pro Tool & Supply representative for more information on our variety and large stock of concrete placing equipment.