General carpentry nails are the most popular family of nails.  These nails are used in residential and commercial construction and other carpentry projects.  This family includes:
1.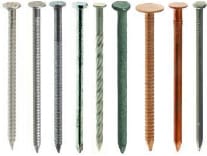 Common Nails
Flat head. Diamond point.
Being the most popular group of nails, common nails, are used for general carpentry and framing projects.
Smooth Shank
Ring Shank (provides extra holding power)
2. Sinkers
Flat countersunk head. Diamond point.  Smooth shank.
Sinkers, which feature a thin shank to reduce wood splitting, have hundred of carpentry uses.
Vinyl Coated
3. Duplex Nails
Double flat head.  Diamond point. Smooth shank.
Available in 5lb or 50lb boxes
The bottom head acts as a stop to make it easy to remove the nail and dismantle temporary structures. Used for scaffolds, framework and other temporary structures
Request A Quote For Models
Get More Info on Our General Carpentry Nails
Want to know more about our variety and large stock of general carpentry nails? Request a Quote or call us at 1-888-776-0007  to speak with a Pro Tool & Supply representative.