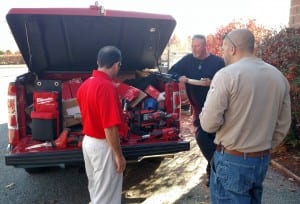 The Pro Group strives to be your partner within the construction industry, and that involves making sure you know what construction tools and equipment to use, when to use it, and how to use it. About once a month The Pro Group hosts lunch and learn sessions where as a customer you will have the chance to speak with our manufacturers in person and demo the latest products you're most interested in to help you be successful on the job.
Details and Benefits of Our Lunch and Learns
Learn about the features and benefits of the latest construction tools and equipment available.
Have any questions you may have answered first-hand from our partnered manufacturers.
Personalized interaction and networking with our manufacturers to receive targeted recommendations for your upcoming jobs.
Complimentary lunch including sandwiches, pizza, or bar-b-que at one of our four locations.
Sessions usually last between an hour to an hour and 30 mins.
How Do I Attend?
Contact us today and tell us which day, time, and branch location is most convenient for you, the product and brand you are interested in, as well as any additional information about the product you'd like to learn about during the session. We'll reach out to the manufacturer and invite them to speak with you at a mutually convenient time and let them know which product(s) you'd like to learn more about.