For over 30 years, Flagro has been manufacturing propane, natural gas and oil fired temporary heating equipment.  Offering a wide spectrum of gas and oil related products to the construction and industrial sectors, Flagro heaters are guaranteed to keep your site warm, even when the weather isn't.
The Flagro heater product line has expanded to meet an ever-increasing need for propane, natural gas and oil fired temporary heaters, with heaters ranging from 85,000BTU/hr to 1,500,000BTU/hr.  Our line up now includes a comprehensive selection of:
Indirect and direct fired heaters
Electric heaters
Self-contained heater trailers
Dual fuel tent heaters
Radiant heaters
As well as liquid and vapor propane burners and torched for roofing and road maintenance.
Browse Our Flagro Heaters and Products: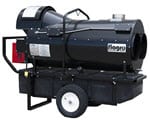 Indirect Fired Heaters 
Indirect fired heaters allows external exhaust of combustion products with an optional thermostat control.  Heating options include oil, propane, or natural gas. Flagro heaters are versatile for any job.
Shop Indirect Fired Heaters >>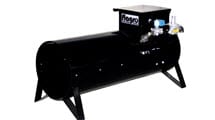 Dual Fuel Heaters 
Designed for easy operation and maintenance, an electronic direct spark ignition control makes these Flagro heaters a great choice. 
Contact Us for Flagro Heaters and Products
Request a Quote or call us at 1-888-776-0007 to speak with a Pro Tool & Supply representative for more information on our stock.