About Generac Generators
Generac has over 50 years experience in the power generation industry, providing back up power to the commercial, industrial, and homeowner applications.  With a variety of sizes and fuel types, Generac brings you the power you need, when you need it most.
Browse Our Complete Line of Generac Generators:
Our partnership with Generac generators keeps power on your site when you need it, and is available for Sale or Rent.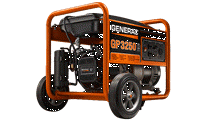 Generators
Specializing in bringing you the best in portable generators, we stock a variety of Generac Portable Generators to give you the right amount of power you need, where you need it, when you need it.
Contact us for Generac Construction Equipment
Request a quote or call us at 1-888-776-0007 to speak with a representative from The Pro Group for more information on our stock and rental fleet.