Genie Construction Equipment
Genie has been an expert in aerial lifts for over fifty years, safely bringing you to new heights.  Servicing a wide range of applications with versatile lifts and booms, Genie is a trusted source with top quality and unmatched service.
Browse our Complete Line of Genie Aerial Lifts and Platforms:
Genie is an industry leader in Aerial Lifts and Platforms.  Our stock and rental fleet includes Genie Scissor Lift and Genie Boom Lift, as well as all terrain man lifts.  Our Genie products are available for both sale and rent, as well as parts.


Genie Lifts and Platforms
Getting you to new heights, safely and effectively is our number one priority.  Genie makes it simple and easy to keep you working smarter and safer.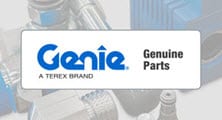 Genie Parts
Our experienced parts specialist can help you locate the parts your need to fix your Genie Equipment.
Contact us for Genie Construction Equipment and Parts
Request a quote of call us at 1-888-776-0007 to speak with a representative from The Pro Group for more information on our stock and rental fleet of Genie Construction Equipment.