IHI Mini Excavators
IHI is a leading manufacturer of Mini Excavators, Electric Mini Excavators, and Concrete Buggies.  On a job site, space can be an issue, and IHI has your confined space solution.  These mini excavators can outperform others in its class with its outstanding digging force and cycle time without sacrificing operator comfort, offering spacious cabs.
Browse our Complete Line of IHI Equipment:
The Pro Group offers an impressive line of IHI Construction Equipment.  Available for Sale or Rent, no matter what you job site requirements are, we are sure to have the solution.


IHI Mini Excavators
Available in a Diesel or Electric Engine, these Mini Excavators pack a serious punch.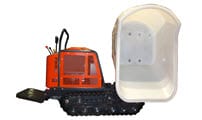 Concrete Buggies
IHI Concrete Buggies delivers maximum performance in a variety of working conditions.  With a straight or Pivot Dump, these Concrete Buggies are your best bet.
Contact Us for IHI Excavators and Construction Equipment
Request a Quote or call us at 1-88-776-0007 to speak with a representative from The Pro Group for more information on our stock and rental fleet.