According to the Occupational Safety and Health Administration, falls are by far the most common cause of construction worker deaths in the United States. Nearly 39 percent of all fatalities on construction sites are attributable to falls from structures, ladders, or other heights. In 2015, an average of one construction worker per day fell to his or her death. Unsurprisingly, violations of fall-protection standards are the most frequent citations issued by OSHA.
Many times, workers are injured in falls not because they fail to wear safety gear, but because they wear the wrong harnesses for their trade or use them incorrectly. Pro Tool & Supply knows that as a responsible employer you want to protect your workers and stay in compliance with OSHA regulations. We are here to assist those efforts. We carry a full line of fall-protection gear and have the expertise to help you choose the right equipment for your situation.
A proper fall arrest system consists of three parts:
Harness
The harness is the part of the fall-protection system the worker wears, and only full-body harnesses should be considered. Dozens of designs have been created to maximize comfort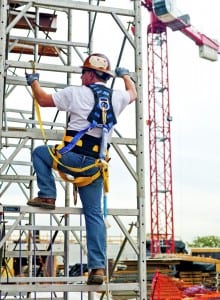 and maneuverability, but the primary consideration when choosing a harness is safety and appropriateness for the job being performed. Harnesses are designed with different strap widths, D-ring placement, webbing, and other features to provide the best protection in any situation. For instance, if you employ welders or electricians look for harnesses made of materials that resist extreme heat and flames. If you employ painters, find crossover harnesses with front D-rings for tying off while climbing ladders.
A harness must be removed from service after it has been involved in a fall. Werner's Blue Armor 1000 full-body harness incorporates technology that makes fall involvement, as well as wear and damage, evident. This model also uses special guides and loops to keep straps and webbing snug, organized, and free from tangles. See page 4 of Pro Tool & Supply's safety catalog.
Anchorage
The anchorage is the strong, solid structure that anchors the fall-arrest system and the equipment that attaches the connecting device to it. The anchorage "catches" a falling worker before he hits a lower level. Tie offs must be able to support 5,000 pounds per worker attached to them. The strongest overhead – steel and concrete are best – usually provides the best anchor. Anchoring directly overhead can eliminate the hazard of fallen employees swinging like a pendulum into walls, beams, scaffolding, etc. Never anchor to a point below the worker; this would increase the distance of the fall.
For roofers or steelworkers, you may want to provide lifelines, like Werner's R530011-R. They are self-retracting, allowing free movement while stopping falls within three feet. For more details check out page 2 of the Pro Tool safety catalog.
Connecting Device
The connecting device is the line or strap that attaches the harness to the tie off point. These devices include lanyards, self-retracting lifelines, rope grabs, etc. They also serve as shock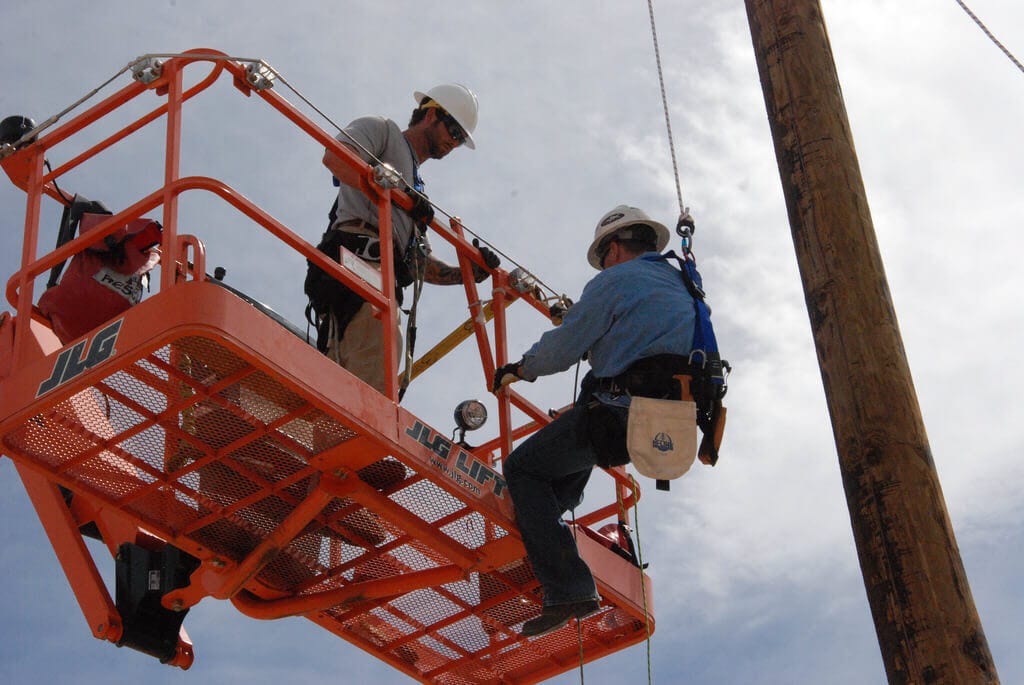 absorbers, stretching to minimize the impact of the fall being stopped. Be sure to account for this elasticity and select a connector short enough to stop a fall short of any impact point below. Except for ladder-type fall arrests, always attach the lanyard to the D-ring on the back of the full-body harness. Harnesses may come with D-rings on the sides, but these are not for fall-arrest connectors; they are used for worker positioning only.
Read more about our construction safety products and solutions, or contact Pro Tool & Supply's safety associates for guidance in choosing the proper fall protection for your workers. They can help you select the appropriate safety features and the harnesses with the adjustability, comfort, and maneuverability allowances to keep your employees safe and productive throughout the workday.