Portable, powerful, and versatile, gas-powered cut-off saws give operators the convenience and ease-of-operation they need for a full productive day on the construction site. With the proper blade, these gas-powered dynamos slice through not only horizontal and vertical concrete, but also brick, asphalt and steel. This month, Pro Tool & Supply features handheld gas cut-off saws from Husqvarna, one of the most respected brands in the industry.
Gas Cut-off Saws Advantages and Applications
Contractors favor gas-powered cutters for a variety of applications. Advances over the past couple decades have made these saws lighter and more maneuverable than ever, a distinct advantage over hydraulic cutters. Despite the lighter load, gas saws are the most powerful on the market; they cut circles around electric units. Their two-stroke engines are more convenient than pneumatic equipment that requires both generators and the diesel fuel to run them.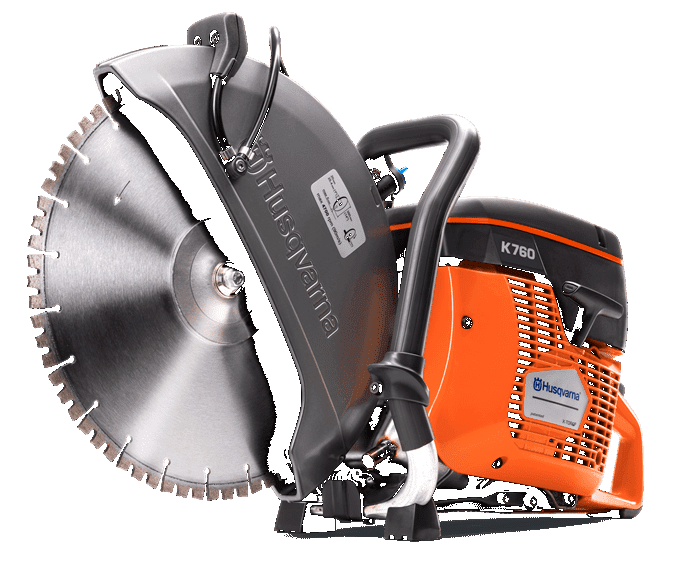 The clincher for gas cut-off saws is the ease and speed with which cut-off saws can trim many different materials:
Concrete – Cut-off saws earn their ability to slice through concrete to create grooves, windows, and other openings in precast wall panels. While concrete should be wet-cut when practical, in order to keep cut-off saws cool and operators protected from silica dust, cut-off saws perform admirably dry, when water is not available.
Brick – Deep-cutting blades make quick work of brick and block. Four-inch cuts become routine, with both 12- and 14-inch cut-off saws. The saws' portability shines in these applications, allowing them to go to the brick – even up scaffolding – rather than bringing the bricks to a stationary table saw.
Asphalt – Asphalt requires specially constructed blades that can carve through this soft, yet extremely abrasive material. Mounting these blades on gas-powered cut-off saws creates the perfect tool for patching and resurfacing roads and driveways.
Metal – Cut-off saws are powerful and enough to cut a variety of metals in the workshop and the jobsite. They can shear through rebar, cutting it to size, or burrow through reinforced concrete to ease in demolition. Contour-cutting sheet metal, and cutting wire mesh to size are other common applications.
Cut-off Saws Blade Selection
As noted, selecting blades specially constructed to efficiently grind through each work material is the first consideration for proper cutting. Diamond cutting wheels cut using diamonds embedded in a matrix of other materials. As the matrix wears away, it releases worn diamonds and exposes new ones, in effect renewing the grinding surface. Because of this, harder materials like concrete should be cut with diamond wheels incorporating soft matrices, which will wear away quickly, always keeping new diamonds on the cutting surface. Conversely, softer materials are best cut with wheels using hard matrices. The diamonds wear more slowly and do not need to be replaced as often.
Safe and Efficient Operation for Cut-off Saws
Like any power tools, cut-off saws can be ineffective, hazardous, and even deadly if not used correctly. Always follow manufacturers' operating instructions and wear all recommended personal protective equipment.
Maintenance and proper operation will ensure your gas cut-off saw delivers excellent results and lasts for years:
Bring the saw to full speed before initiating contact with the work material. Changing speeds once the workpiece is engaged can cause it to catch, fishtail, and veer off course, while forcing the wheel to work harder to get through the cut.
Avoid bumping the blade, which can cause dents and bends and result in sub-optimal performance.
Change the filter regularly. Keeping concrete and brick dust out of the motor will allow the saw to run longer and increase productivity.
This month, Pro Tool & Supply is offering unbeatable prices on Husqvarna gas-powered concrete cut-off saws. These machines feature ergonomic design, easy-start motors, efficient filtration, and dozens more features to help keep your project on schedule.
Our expert associates are standing by to assist you in selecting the best cut-off machines and blades for your application. Click here to learn how we can help.