The approaching winter brings additional challenges for the construction industry. Frozen ground and cold air can lead to downtime on a job site. Follow this guide to find which construction heaters are the right ones for your needs, based on your jobsite's scope, size, location, power availability, and more.
Forced-Air Construction Heaters
The most common variety on most jobsites, forced-air heaters deliver heat either by blowing air across an open flame (direct-fired) or pulling it across a heat exchanger (indirect-fired). Fans blow the hot air into the space to be heated or ducts convey it to specific locations.
Direct-fired models are more efficient, transferring 100 percent of the flame's energy to the air. Because the flame is exposed, however, these heaters are best suited for uncluttered, well-ventilated spaces and on projects that will not be affected by the moisture they produce.
Indirect-fired heaters, conversely, are best in closed spaces and when clean, dry air is a must – drywall installation, for instance. Pro Tool and Supply carries top-of-the-line HeatStar forced-air heaters running on propane or kerosene.
Infrared Construction Heaters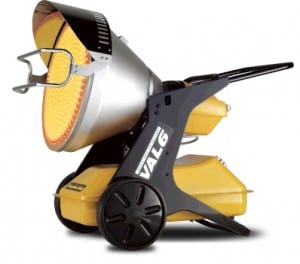 Infrared energy is radiant. It directly heats what it hits – floors, equipment, and people – without wasting any on the surrounding air. That makes them well-suited for use on outdoor jobsites. Cold rain will not diminish the infrared heat, and wind from open doorways will not dissipate it.
Pro Tool and Supply is proud to carry the KBE5L infrared heater from Val6. It produces efficient, odorless, smokeless heat, consistent heat, using a preheater to keep the fuel flowing smoothly in frigid conditions.
Electric Construction Heaters
Fan elements on portable salamander- and milkhouse-style electric heaters continually push indoor air over several hot coils, continually heating it until it reaches the desired temperature. Electric heat is clean, dry and fume-free and can be ducted to specific areas. They are highly portable, making them perfect for use under decking and inside concrete enclosures. One drawback is that that heating with electricity often is more expensive than using propane or kerosene, and the 3-phase high-voltage electrical outlets many models require may not be available.
The Fostoria electric heaters Pro Tool and Supply carry can easily increase temperatures by 30 to 45 degrees Fahrenheit; The Fostoria 3048-3 model puts out more than 100,000 BTUs and can raise air temperature by 90 degrees.
Hydronic Construction Heaters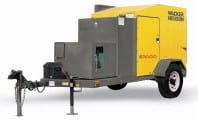 Using portable propane- or oil-fueled boilers to heat fluid and pump it through serpentine tubing that acts as a heat exchanger, hydronic heaters have traditionally been used to thaw frozen ground and maintain concrete at optimal curing temperature.
The Wacker Neuson ground heaters from Pro Tool and Supply deliver dry heat through 1,100 to 5,000 feet of hose, enough to thaw up to 10,000 square feet and heat as much as 1.7 million cubic feet of ambient air. To heat the air, simply point fans across the heated coiled hose and into the work area.
Keep Your Jobsites Moving With Construction Heaters
Keep your construction projects humming along, no matter what the weather throws your way. Shop our large inventory of construction heaters for both supply and rent to keep your jobsite moving. Our representatives are ready to help you heat all your winter jobs. Request a Quote or call us at 1-844-671-2956 learn more about our complete selection of construction heaters.