Walk-behind floor grinders are critical for concrete construction and maintenance. They can repair existing slabs, clean and prepare floors for carpet or linoleum, and polish and beautify uncovered surfaces. But like any power equipment, conscientious preparation, proper operation, and the right equipment will make concrete floor grinders as safe and efficient as possible.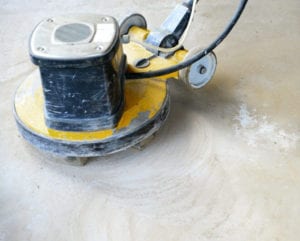 Operation
Proper floor grinder operation includes taking care to control the machine and prevent its harming the user. Operators should always wear respirators to deter any stray dust from reaching their mouths and noses, slip-resistant, closed-toe shoes, and eye and ear protection. Avoid loose clothing that can potentially get caught in the grinder's disks.
For a smooth, clean, level floor, begin by cleaning up any oil, grease, solvent or other liquid debris, then sweep the floor.
Operators should assume a balanced stance and firmly grip – not clutch – the handles. Glide the grinder side to side in short sweeps. Do not allow the machine to get too far away from your center of gravity or at an angle that requires you to strain to pull it back. A smooth motion with the grinder will not only produce better results, by preventing a "swirled" appearance, but also prevent stress injuries to the user. Grinding blocks come in various grits. Applications often require several passes over the floor using finer and finer grits to remove adhesives, level the floor, smooth it, and polish it.
Stay alert during operation:
Ensure the vacuum is operating efficiently and the hose is not kinked.
Watch that the filter's self-cleaning cycle is functioning or turn the machine off frequently to clear the filter.
Change the vacuum bags often.
Power Trip
The Pro Group offers electric EDCO and Husqvarna floor grinders that can be used anywhere, without worrying about harmful fumes emitted by gasoline and propane. The power cord is the only real drawback to electric machines, but with some common-sense precautions, operators can avoid potential problems:
Always inspect electrical equipment and power tools before use. Disqualify any with frayed cords.
Always use grounded outlets.
Keep the cord away from the grinding plates.
If outlets are unavailable and a generator must be used, ensure there is sufficient ventilation and insist operators wear carbon monoxide monitors.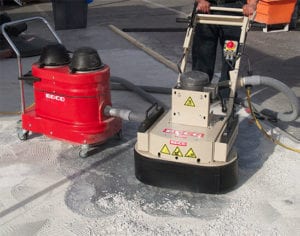 Silica
The top priority when cutting or grinding concrete must be preventing and containing silica dust. If allowed to become airborne, the silica particles in concrete dust easily make their way into the respiratory system. Once in the lungs, these tiny particles tear microscopic lesions in the lung tissue. Exposure can cause cancer, silicosis, and other respiratory diseases.
The Occupational Safety and Health Administration approves of two methods for keeping silica dust out of workers' lungs:
Wet Method – Water delivered to the grinding surface captures dust particles before they can be inhaled. Water flow must be continuous, and the delivery system must be integrated into the grinding equipment. Before operating a floor grinder, ensure all water hoses are in good shape and securely fastened, nozzles are properly fitted and directed to the grinding wheel, and the water supply is sufficient. Use a wet vacuum fitted with a HEPA filter to clean up the hazardous slurry of water and dust.
Dry Method – Floor grinders can be fitted with attachments that confine and vacuum concrete dust as it is created, before it can escape into the air. Vacuum dust collection systems include a shroud that fits securely to the bottom of the grinder to corral the dust, a vacuum powerful enough to suck up the dust, and a filter that meets OSHA standards (99 percent or greater efficiency and a cleaning cycle).
Pro Tool & Supply stocks a full line of walk-behind floor grinders in a variety of sizes for sale or rent, as well as vacuums, scarifiers, angle grinders, and all the accessories you need to make your project a success. Contact our experts today to learn more.