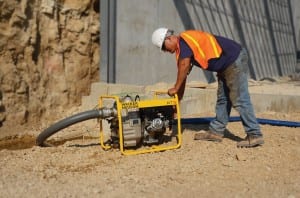 With all the snow, sleet, and rain New England gets throughout the year, one of the challenges construction crews must deal with is flooded or wet construction sites. As winter brings snow and ice, spring melts that snow and ice at rates that sometimes leave construction sites flooded. Add to that challenge, construction sites that are built on or near high groundwater tables and you've got a strong need for dewatering New England construction sites. Thankfully, site supervisors can rely on supply or rental construction equipment to handle the occasional build up of water on site surfaces.
How Do You Select The Right Pump?
There are a few criteria to use when choosing the right pump for your location.
Pump size – removal capacities vary among brand lines, so it's important to match the pump size with the anticipated load. Construction site pumps can run from 1-2kW up to over 10kW. If water extraction is expected to continue for an extended period over a wide surface area, we often recommend renting multiple pumps for distributed removal.
Flow rate – you want to install a pump that will flush the site of water at the right flow volume. For light flow management, 50-200 gallons per minute is an adequate rate. During heavier extraction, you should select a pump that enables 1000 gallons or higher per minute.
Location flexibility – when flood areas are located at various site points, having the ability to move a pump to different spots is critical to fast removal. Gas-powered units provide the greatest flexibility. However, electric water pumps with extended cord lengths can be effective as well.
Waste/Sludge removal – in some cases, sludge, construction materials, and other components must be extracted along with the water. Contractors have options to handle any composition:

Drainage pumps – for pumping water with less abrasive solids
Sludge pumps – for non-abrasive sediment and sludge removal
Slurry pumps – for removing water with abrasive suspended solids like sand, gravel or concrete
Construction Equipment Rental Pumps Right To Your Jobsite
At The Pro Group, we offer a selection of construction equipment rentals including gas/diesel pump and electric submersible pump rentals from leading brands including Wacker, BJM, and Tsurumi. Request a quote today or call us at 1-888-776-0007 to speak with one of our knowledgeable equipment specialists on our stock of dewatering pumps and our on-site construction equipment rental delivery options. We also offer dewatering pumps for purchase.