Versatile and rugged, loaders are construction site workhorses. Their adaptability and a long line of compatible attachments make a skid steer or compact track loader indispensable for many jobs.
While both wheel-driven skid loaders and their track-driven counterparts can be used in a variety of applications and work environments throughout the year, each has distinct advantages under certain conditions.
Skid Steer Advantages
If you're buying rather than renting, a skid steer produces its first benefit even before it's delivered, checking in with a sticker price that is often 30 percent or so lower than a track loader of similar capacity. Tires are cheaper to replace than tracks, so ongoing operating costs can be less of a hit as well, especially when working on hard surfaces. Asphalt and concrete are kinder to tires than they are to tracks, so if most of a company's jobs involve working on hard surfaces, a skid steer may be the better option.
Consider choosing a skid steer rental or purchase under these conditions:
Confined Work Spaces – Wheels allow skid steers to make tight turns. They can "pirouette" or pivot on one wheel, dragging – that is skidding, hence the name – the real wheels through a 0-degree turn radius. When walls, drop-offs, or other space confinements prevail, this turn-on-a-dime capability can make all the difference.
Speed – In addition to making faster and shorter turns, skid steers also hit top working speeds of 10 to 14 miles per hour. This is about 40 percent faster than comparable track loaders. A few additional miles per hour may not sound like much, but it adds up, and the faster the job gets done, the more quickly you can move onto the next project.
Portability – Because they don't require the understructure on which track loaders rely, skid steers are lighter. They can be easily loaded and transported from site to site.
Track Loader Advantages
A skid steer likely is the best choice when surface and weather conditions are ideal, but when the going gets tough, a track loader could be the better option. They are best when tackling muddy, rocky, and slippery jobsites. Their tracks creating several benefits when working surfaces are challenging:
Weight Distribution – Though their undercarriage components make track loaders heavier than comparable skid steers, the entire bottom of each track comes into contact with the ground. This greater surface contact spreads out the weight, so the machines do not become bogged down in mud or sink in snow. Tracks also tread more lightly than tires, causing less damage to landscaping and less time required for site maintenance.
Accessibility and Maneuverability – Better traction on mud, sand, and ice allows track loaders to operate where their wheeled counterparts cannot. They may be able to recommence work immediately after a downpour, when drier conditions would be needed in order to bring in wheeled loaders. Greater productivity and shorter completion times equal greater profits.
Track Life – While it is true that tires are cheaper than tracks, tracks offer significantly more operating hours than tires. They cost a bit more to replace, but you don't have to replace them nearly as often if working on softer surfaces.
Snow Removal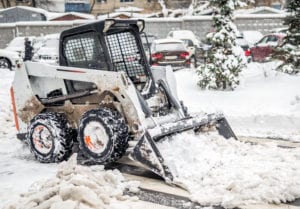 With winter in full swing, loaders can be adapted for use in plowing or blowing snow. As is often the case, the jury is still out on whether tracks or skids are best suited for the job. Greater tractive power may allow a track loader to push and clear larger loads on level surfaces.
However, a wheeled skid steer's heavier ground bearing will prevent slipping when plowing on inclines. The higher per-square-inch weight on the tires also bears on the blade, creating superior scraping power for one-pass snow removal.
Get the Right Equipment for Your Next Job
The Pro Group's expert sales team can help you choose from our extensive line of loaders for sale or rent. Give us a call or request a quote for advice on the right loader for your application.