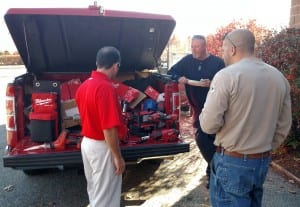 We want you to have the product knowledge you need to be successful on the job, so about once a month, we host lunch and learn sessions at one of our four locations with some of today's most popular construction tool manufacturers. This gives you a chance to see demonstrations and talk directly with tool makers.
We recently held a session with Milwaukee Tool, where contractors got a hands-on look at the company's latest cordless products and were able to test out the construction tools themselves. During the session, contractors were introduced to products including:
M18 Force Logic High Voltage Crimper and Cutter, which enables you to make accurate cuts and crimps to any wire.
M18 Fuel impact wrench, which provides multiple torque settings for various fastener applications.
Our customers also had a chance to learn about and test several products in Milwaukee's M12 and M28 lines, and check out the latest outdoor construction site work wear.
If you want to know more about our lunch and learn series, call us at 1-888-776-0007 or visit our services section.