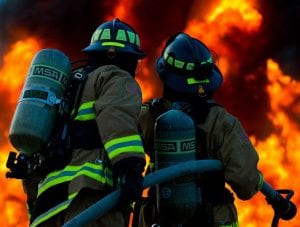 Fire on a construction site is a real and frightening possibility. Spark-producing tools and machinery are in frequent use. Flammable material abounds. Accelerants on jobs can aid fire's rapid spread. And in many cases, sprinklers, firewalls, and other systems in the built environment that can delay fire's impact, have not yet been installed.
Construction site fire is a major threat to life, property, and construction schedules and the consequences can be devastating.  The likelihood of fire, however, can be reduced. Comprehensive planning, diligent work performance, and fastidious housekeeping can keep construction sites productive and safe.
Planning and Training
The first step to keeping workers and property safe is to establish a system of policies, processes, responsibilities, and training so that all personnel on the site understand management's commitment to a fire-free project:
Appointing a competent person to wield ultimate authority and responsibility for fire prevention, extinguishing, and escape protocols.
Implementation of a fire-safety inspection schedule for the duration of the project. The plan must be adjusted as construction progresses, new trades arrive on site, and new tasks are performed.
Procurement, distribution, and worker instruction on use of fire extinguishers. Ensure the number of extinguishers is sufficient and that they are located in highly visible, easy-to-access locations.
Consideration of site-specific challenges that make fire more likely or its escalation easier – location, terrain, weather, and type (road, high rise, underground, etc.)
Construction Activities
By its nature, construction involves activities and materials that can start or contribute to a fire. It is each tradesperson's responsibility to ensure they perform their tasks with care:
Hot Work
Check hot work areas for fire at least every 30 minutes from the time welding, cutting, or grinding operations begin to an hour after they have concluded.
Whenever possible, perform this work in a shop, segregated from other trades.
If hot work must be done directly on the building site, cover floor and wall openings with fire-resistant blankets to guard against sparks.
Electricity
Keep newly installed wiring and electric appliances from shorting and igniting a fire by protecting them from wet weather and shielding them from contamination by windblown debris, sawdust, and other ready fuel sources.
Continue to inspect wiring even after it has been installed. Dry weather and vibration from nearby construction activity can crack and damage insulation, leading to the potential for short circuiting and fire.
Temporary lights and the generators that power them also can cause electrical fires. Check broken bulbs, bent or displaced panels, and cracked cords caused by accidental impacts from tools or machinery.
Tools with frayed power cords must be removed from service.
Flammable Materials
Keep only daily supplies of gasoline, diesel fuel, acetylene, sealants, solvents, and other liquids that can act as flame accelerants on the construction site. Store larger supplies offsite, covered with noncombustible sheets, and well away from sources of heat.
Install dust-collecting equipment on power tools and in shops where cutting, sanding, and other woodworking activities will be conducted.
Operate and stage mobile equipment on paved slabs or hard-packed dirt free of vegetation or debris that could be ignited by hot engines or exhaust fumes.
Disposal and Housekeeping
Keep flammable construction material away from heat, flame, electricity, and other ignition and fuel sources.
Insist workers discard oily rags only in self-closing metallic containers.
Promptly remove scrap wood and other debris from the construction site.
Strictly limit the areas in which employees may smoke.
Sweep work area floors at the end of each day to remove sawdust, paper scraps, and other combustibles.
Fire needs three ingredients in order to start and spread: spark, fuel, and oxygen. Preventing and containing construction site fires involves the elimination and segregation of these ingredients from each other. Contact the Pro Group to learn about our extensive inventory of fire-retardant products, fire extinguishers, and more to protect workers, property, and productivity.