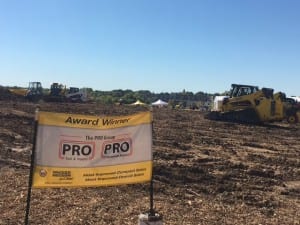 The Pro Group is proud and excited to announce that we have received the Most Improved in Compact Sales award and Most Improved in Overall Sales award by Wacker Neuson.
Wacker Neuson is a global organization that develops, produces and distributes compact equipment, worksite technology, concrete technology, and more. This family-owned company recognizes dealers who have performed outstandingly at representing the brand at their yearly dealer summit.
Over 100 contracted dealers from the US and Canada were in the running at this event, so we at The Pro Group are honored to receive such an award.  The criteria for both awards centered on the dealer that achieved the greatest percentage year-over-year growth. The pool consisted of over 100 U.S. contracted dealers, and was limited to those whose sales were in the top 50% of the group.
With achieving an increase of over 725% in compact equipment sales and over 350% increase in overall sales, we are proud to be a reliable supplier to contractors. We will continue to work diligently towards being a leading construction distributor to contractors within the New England area.
Learn more about other awards and certifications The Pro Group has required and discover why we can get your construction job done better, faster, and safer.