When it comes to construction no matter what the weather, the show must go on. Still, winter weather requires even greater focus on construction safety. Outfitting employees in the proper road construction equipment and safety clothing reduces the risk of accidents due to cold, windy, and wet conditions, while also keeping them comfortable. When workers know their gear will protect them from inclement weather, they are more comfortable and more productive.
Check out this buying guide to help you choose all the construction safety gear you need to keep your road construction crew or construction employees protected and working at peak productivity.
Gloves
Many workers are tempted to work without gloves, because they believe the material precludes the precision required to perform their tasks. But the manual nature of construction makes protecting craftspeople from sharp tools, metal shards, and extreme cold a primary concern. Constructed from patented Dyneema material, that's pound-for-pound 15 times stronger than steel, Pro Tool & Supply's construction gloves can guard fingers, palms, and wrists from the potentially devastating abrasive and puncture hazards common to any jobsite. Perhaps more important, these gloves are easy to wear; their comfortable fit allows workers to do their jobs with little loss of "feel," grip, or dexterity.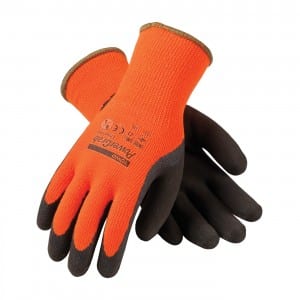 Similarly, the foam latex palm incorporated into its heavy-duty acrylic knit gloves provide just the right tackiness to create a sure, firm grip on tools, work pieces, and safety equipment, no matter how cold the conditions. Some of the most ergonomically designed work gloves on the market, our high-visibility acrylic gloves with latex MicroFinish also adds a level of cut protection as well as many other benefits:
Thermal insulation for warmth
Moisture wicking for dry comfort
Seamless construction to eliminate irritation and chafing
Washable for extended life
Flexible coating that will not impede work processes
Fitted wrist as a barrier to dirt and debris
Bomber Jackets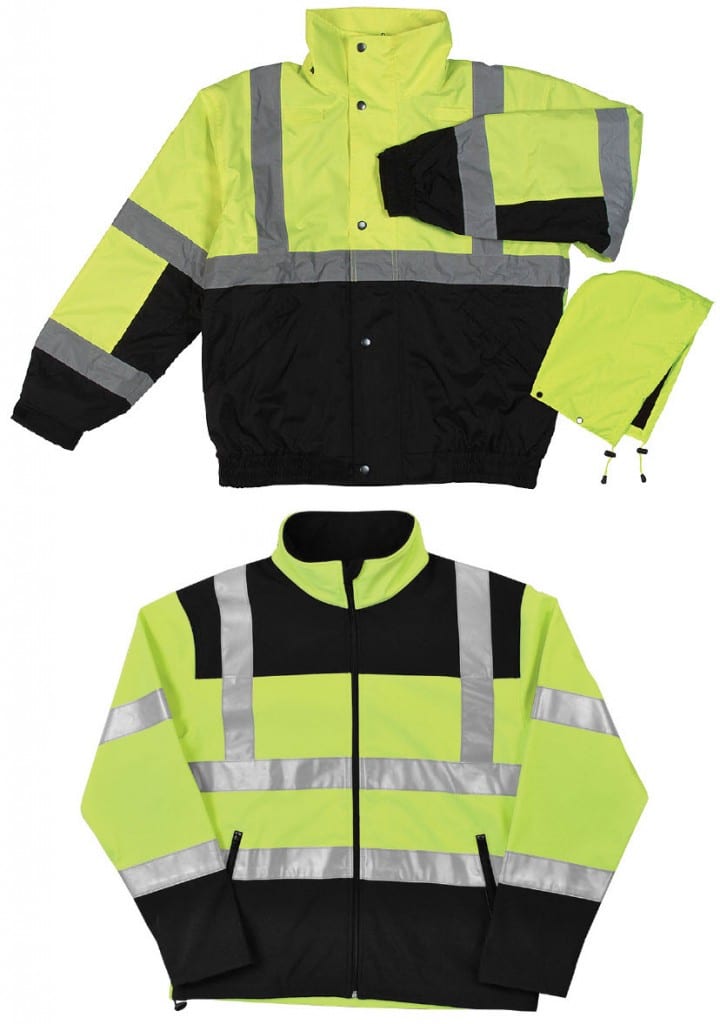 One of the most basic cold-weather protectors, bomber jackets' elasticized cuffs and waist, flip-up collar, and toasty fleece lining keep body heat in and winter out. With a stable core temperature, workers can ply their crafts without worrying rain or sleet – water rolls off the polyurethane coating, and rugged polyester stops wind in its tracks. Pro Tool & Supply's supply of bomber jackets conform to ANSI Class 2 standards, including high-visibility yellow chest and sleeves and reflective stripes. Store the detachable hood in the jacket's collar or pull it out to keep heat loss to a minimum. Three pockets are perfect for cell phone or radio storage, and mic tabs ensure workers have hands-free communication.
Rain Gear
Working in a cold rain can be disheartening as well as potentially dangerous. Polyvinyl rain jackets and pants are critical road construction equipment. Fully taped seams, snap closures, and snugly fitting cuffs, waist, and collars maintain waterproof integrity. The hood secures with a drawstring to keep moisture off the neck and head so workers can work in total comfort. The heavy polyester construction shields wearers from the wind, but hidden vents allow air flow and heat circulation. High-visibility yellow and reflective stripes stand out even in heavy snowstorms and against gray winter skies.
Hardhat Liners
A combination of fabrics and materials make Pro Tool and Supply's hardhat liners must-have winter road construction equipment. Whether you outfit your crew in liners with fire-resistant knit polyester shells to keep cold air at bay, comfortable natural cotton, or insulating fleece, we have the ideal solution for your application. We have hardhat liners that are compatible with welding masks, goggles, respirators, earplugs and other construction safety equipment. All our liners are lightweight. They fit snugly to the hat and worker's heads and faces for unobtrusive safety in snowy, windy weather.
Don't let Old Man Winter wreck your construction schedule. Call Pro Tool and Supply today at 1-888-776-0007 or request a quote to order the winter construction safety gear that will keep your crew productive and safe through the cold months ahead.