Pro Tool & Supply joins the National Safety Council, the Occupational Safety and Health Administration, and all of America's dedicated construction companies in celebrating National Safety Month throughout June. While we must remain vigilant when it comes to safety every month of the year, June brings the additional challenges associated with the onset of warmer weather and more exterior work being performed.
In particular, asphalt paving is prevalent in June and warmer months, as roads and parking projects commence. With these projects come special worker safety concerns centering around equipment use, hot weather, and traffic hazards.
Equipment and Material
Simply working around asphalt can pose potential health hazards. Contact can cause serious burns and lesions that can become irritated. Even the fumes emanating from asphalt can irritate mucous membranes, causing coughing, watery eyes, headaches, shortness of breath, and nausea. Supply workers with respirators and ventilation equipment to mitigate these hazards, and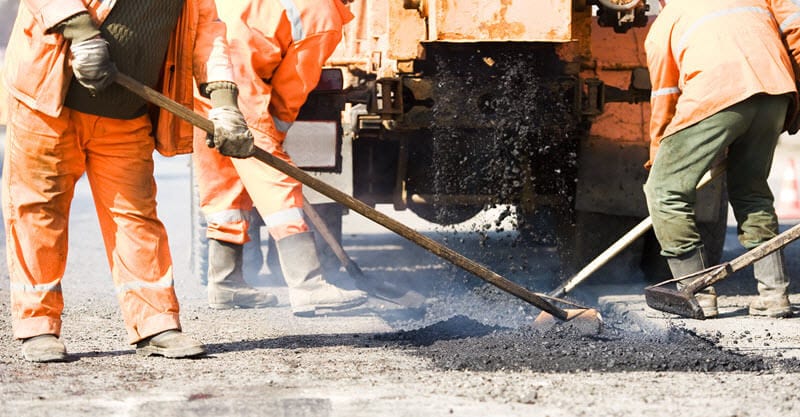 instruct them to immediately wash skin and change clothing that makes contact with asphalt.
Pay attention to the terrain of the area being paved. Level ground requires operators to simply "steer" plate compactors in the desired direction, as the machine provides its own impetus. However, sloping grades can create lateral sliding, requiring operators to push or pull the compactor to supply the momentum needed to climb the incline. Without care, these maneuvers can make the machine move erratically and endanger operators and bystanders.
This month Pro Tool has a special deal on Wacker Neuson's 1550W Single Direction Plate Compactor, which has a straight, center-mounted guide handle that offers exceptional maneuverability across terrains.
High Temperatures
Working in direct sunlight, on flat, exposed surfaces that absorb heat magnifies high temperature's negative health effects on workers. Start work shifts as early as possible to avoid the hottest part of the day. Also, take these additional precautions to protect paving personnel from the heat:
Keep plenty of water on hand to ensure workers stay hydrated and encourage sweating, the body's cooling mechanism.
Set up shade structures to enable workers to cool their body temperatures during breaks. Suggest workers wear wide-brimmed hats to provide portable personal shade.
Monitor workers for signs of heat stress: dizziness, vomiting, muscle cramps, headaches, weakness, red, dry skin, and fainting. Lower the body temperature of anyone experiencing these symptoms with shade, fans, ice, etc.
Traffic Control
Paving companies and their employees can adopt policies and practices that greatly reduce the hazards associated with high heat and equipment operation. Avoiding injuries from car accidents, however, also partly depends on drivers. Driver inattention or impairment can foil even the most comprehensive traffic safety program.
Follow these guidelines to minimize the driver and worker errors that can cause serious injuries:
Conduct as much paving work as possible during times when traffic is lightest. This usually means overnight when working on roadways and when businesses are closed when paving parking lots.
Make sure barricades, flashing warning lights, cones and other traffic-control equipment are in working order and placed far enough ahead of paving work zones so drivers can comply before reaching work crews.
If these mechanical control devices cannot effectively direct traffic away from paving workers, employ flaggers equipped with stop/slow paddles, high-visibility clothing, and two-way radios if they will be out of sight of other flaggers.
Make sure workers know which areas are safe. Delineate these areas with marking paint. This June, Pro Tool has a promotion on Rustoleum Marking Paint to help mark safe from dangerous.
Pro Tool and Supply wants to see asphalt pavement workers and all manufacturing and construction employees stay safe during June's National Safety Month and all through the year. To learn how we can help keep your jobsite accident-free, contact Pro Tool and Supply today.