Properly preparing, coating, and finishing concrete floors will improve their appearances and extend their lives. The Pro Group carries a large selection of the tools and materials you need to keep your concrete floors looking and performing their best. Basic floor preparation projects can be completed with just a few tools and few hours' work:
Clean and Repair the Floor
Proper preparation of the floor surface is key to ensuring the grinding and finishing processes achieve their best possible results:
Patch any cracks and fill any holes more than 1/8-inch deep. Allow the work to dry and cure sufficiently.
Sweep the floor with a shop broom or spray out the corners and edges and collect the debris with a wet-dry vacuum.
Remove grease stains with a degreasing solvent and a wire brush or pressure washer.
Grind the Surface
In order for paint, tile, or sealant to bond properly, the concrete floor must have a slightly rough texture, free of adhesive, epoxy, etc. This can be accomplished through several methods, but one of the best and easiest is by grinding the concrete surface.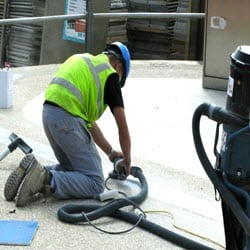 All floor surface must be touched, and Metabo's 7-inch angle accomplishes this. Also suitable for smoothing welded seams, cutting angle iron and sharpening blades, among other applications, this angle grinder reaches corners when smoothing and leveling concrete. Its high-torque motor drives a large, stable grinding wheel at 8,500 rpm for even coverage with no biting or gouging. Use a side-to-side planning motion to allow the rotating blade to do its work.
This Metabo grinder is equipped with numerous safety and ergonomic features, including:
A safety lock to prevent unintentional starting
An integrated damping system and side handle to reduce vibration.
The grinder can be fitted with the Husqvarna S26 vacuum for portable dust collection. This single-phase dust collector uses twin HEPA filters to collect concrete dust before it escapes into the air and the operator's lungs.
The Husqvarna S26 brings operation of the Metabo grinder into compliance with OSHA's new regulations for silica dust exposure, scheduled to go into effect for construction on September 23, 2017.
Finish the Floor
Once you have ground the surface to the texture you desire, protect it from wear, tear, and discoloration with Scofield Formula One Finish Coat. The coating will not alter the floor's texture, so it should be prepared with ample slip resistance. First, treat the ground surface with Finish One Lithium Densifier MP to improve the floor's abrasion resistance and durability.
Apply sufficient Finish Coat to maintain a thin, wet sheen on the ground concrete – a gallon covers about 200 to 400 square feet. Brush vigorously with a push broom, and apply more material to areas where the coating is absorbed completely. Allow Finish Coat to soak the concrete surface for at least 20 minutes, then remove the excess with a squeegee and wet vac. Thoroughly rinse with a fresh water scrub and squeegee or vacuum to avoid white stains resulting from the incomplete removal of excess Finish Coat.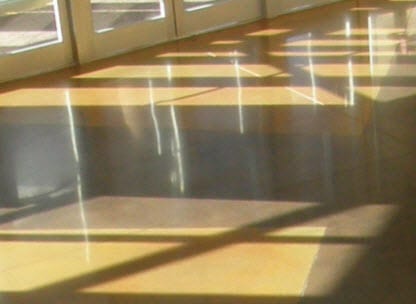 Finish Coat's seal is non-toxic and air permeable, allowing the floor to breathe. Over time it will display a semi-lustrous sheen, making maintenance and cleaning simple. When properly placed, Finish Coat won't leave the whitish surface bloom commonly found with non-architectural silicate products. It will form a barrier to water and repel scuff marks and substances that could stain untreated concrete floors.
Pro Tool & Supply has everything to prepare and finish concrete floors, and keep them looking and performing their best. Products are available for rent and purchase. Contact our trained sales staff for advice and deals on the proper equipment and accessories you'll need to get the job done.