Expanding our commitment to worker health and environmental stewardship, as well as our commitment to be the Pros in serving customers, The Pro Group is proud to now offer emission-control equipment from Clean Emissions Products Inc.
"All types of gas, diesel, and liquid propane engines would benefit from a catalytic muffler," Rick Poirier, The Pro Group's Operations Manager and Clean Emissions liaison explained. "Clean Emissions' catalytic line up has the capabilities of covering our entire product line from compactors to backhoes and everything in between."
How They Work
Clean Emissions' products remove hazardous gasses produced by gasoline, diesel and natural gas engines before they can escape into the atmosphere and the air employees breathe. Their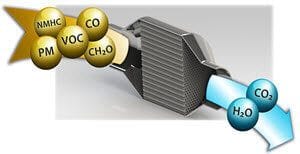 products are applicable to both on-road and off-road equipment engines in a variety of industries including construction, mining, power generation, mass transit, material handling, and more.
Clean Emissions' catalysts filter harmful carbon, nitrogen, and other chemical agents through specially treated stainless-steel components configured into a honeycomb structure. The components are treated before being shaped, separating Clean Emissions products from the competition. The filtering produces harmless compounds such as water and carbon dioxide before releasing them through exhausts.
Emission Control Equipment Benefits
The pollution many engines and generators produce has been tied to a long list of health and environmental hazards.
Clean Emissions' catalytic emission-control products deliver best-in-industry reductions of several harmful emissions to meet stringent environmental and OSHA standards:
Up to 99% of carbon monoxide, which when inhaled prevents red blood cells from absorbing oxygen
Up to 95% of diesel particulate matter, which has been shown to cause respiratory and lung disease
Up to 90% of hydrocarbons, which cause eye and lung irritation and harm the environment by depleting the ozone layer, adding to the greenhouse effect, and reducing plants' ability to photosynthesize sunlight
Up to 99% nitrogen oxide, which cause airway inflammation and contribute to smog and acid rain.
Clean Emissions Products' Superiority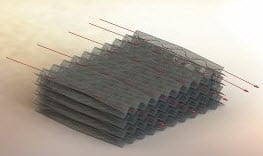 Clean Emissions Products manufactures its catalysts using premium-grade stainless steel coated with the catalyst before its shaped, ensuring 100% stainless steel catalyst coverage. Their commitment to quality materials, craftsmanship, and attention to detail ensures consistent quality and long, corrosion-free operation.
Available for installation on all makes and models of construction equipment – either as inline components or muffler replacements – Clean Emissions products contribute little to exhaust backpressure, causing no engine wear and leaving fuel efficiency unaffected. The products are easy to install and care for, requiring little downtime.
Clean Emissions/Pro Group Partnership
As Clean Emissions Products' exclusive New England catalyst exhaust purifier dealer, The Pro Group can solve all your catalytic exhaust purifier needs:
Oxidation Catalysts "…Can be mounted at any location available within a small gasoline, diesel, or LP gas engine's exhaust system either before or after the existing muffler" for virtually maintenance-free operation and maintenance, Poirier explained.
Replacement Mufflers fit any make and model with seamless upgrades of original equipment. Even in the event the original muffler is not equipped with the necessary internal parts, it can be retrofitted and welded shut for use with the Clean Emissions' replacement.
Honda Catalytic Mufflers bring a make's engine into OSHA/MSHA/EPA compliance, directly replacing original equipment, and producing the same noise attenuation. "The replacement Honda catalytic mufflers are just a bolt off and bolt on set up," noted Poirier. "The workmanship is also impressive. We have never had a manufacturer premature unit failure."
"After years of building a solid relationship monitoring OSHA & EPA tier 3 and 4 emissions requirements, The Pro Group's and Clean Emissions Products' distribution partnership gives us the

ability to react to the requests presented to us by our customers who find the need to operate equipment indoors safely… and to meet Tier 3 or Tier 4 emission standards," Poirier said.
" Clean Emissions…fully understood and presented to us the solution to a problem heading our way before anyone else."
Clean Up Your Act Today
For the best emission-control solutions, contact The Pro Group today or call 1-888-776-0007. Rick Porier and his team are available to help you work safer and cleaner.